Reimagine Your Classroom
with Promethean
Introducing Our All-Inclusive Interactive Panel & Camera Kits
Adapting to teaching students in a hybrid setting has been a significant challenge in many schools. While solutions have varied, the common goal is to provide students with an inclusive, quality educational experience, regardless of where they're learning from.
Encore has developed an innovative, easy-to-use Hybrid Classroom Kit that allows educators to teach both in-person and remote students from the convenience of their classroom with minimal, if any, adjustments to their teaching style.
70" 4K Titanium ActivPanel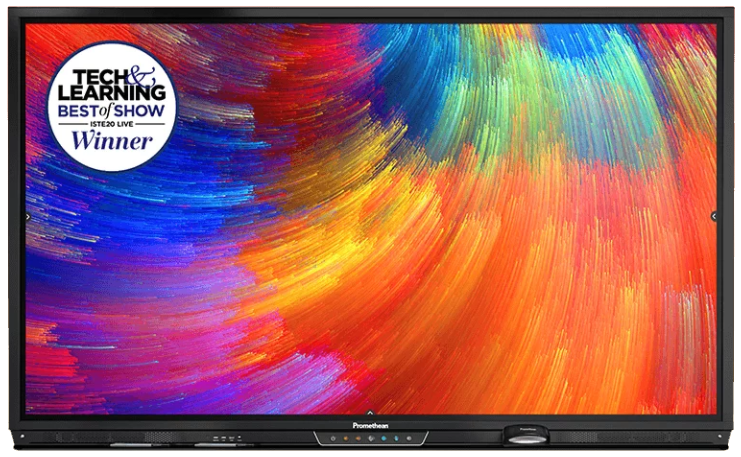 Designed by teachers, for teachers, Promethean's Titanium ActivPanel offers educators an empowering set of instructional capabilities. The revolutionary user interface places all the tools at your fingertips, creating a natural teaching experience.
Digital whiteboard
Screen capture
Customizable spinner & timer apps
Drawing, highlighting, & annotation
Multi-device mirroring
Cloud-based software
Compatible with video conferencing platform of your choice
Access to over 30,000 teaching resources on myPromethean's Library
(1) 3m HDMI cable
(1) 3m USB cable (A-B)
(1) 3m Regional power cable
(1) Remote control w/ (2) batteries
(4) ActivPanel Titanium styluses
(1) Block eraser
(1) Sealed antistatic bag
(4) VESA mount screws (M6)
(1) Mini PC bracket w/ screws
(1) Quick install guide
(1) Promethean Wi-Fi/Bluetooth module w/ user guide
(2) Antennas
(1) Wall mount
We know the needs of every school are unique, which is why we're offering the flexibility to customize your hybrid classroom kit with your preferred camera. We've selected the options below for their simple USB connectivity and focus on the presenter while keeping technology in the background.
NEW from Promethean
Distance Learning Webcam Bundle
Promethean's camera bundle provides everything you need to get up and running in a flash. Just mount the webcam on the tripod, connect it to a laptop with the extension cable, and log in to your favorite conferencing app.
3D digital noise reduction
Omni-directional, dual-microphone array
Three-way camera head quick release
Compatible with Microsoft Teams, Google Meet, Google Hangouts, & more
(1) Promethean Webcam
(1) Promethean Tripod
(1) USB-A Extension Cable
(1) Quick Start Guide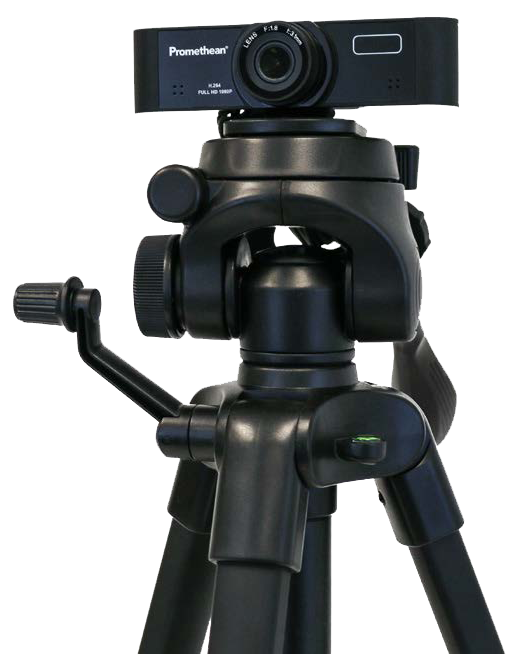 Poly USB Studio All-in-one Soundbar Camera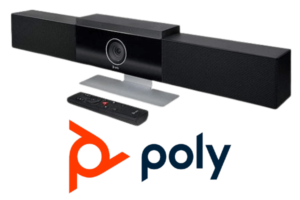 The Poly USB Studio is the perfect pairing device to create a hybrid learning environment. An all-in-one video and audio system, the USB Studio Camera frames the speaker and offers acoustic fence technology, blocking out distracting sounds. Students learning from home will feel like they are sitting in the front-row of the classroom.
Acoustic fencing 

ensures only voices within a defined space are heard by at-home learners

Up to 12ft microphone pickup radius

Smart-camera experiences, no drivers or software 

needed

 

 

Presenter tracking

 & framing
(1) Remote Control w/ (2) AAA batteries
(1) Power adapter
(1) 5m USB cable (C-A)
(1) Wall mount kit
(1) Setup instructions
Poly Studio X30 All-in-one Soundbar Camera & TC8 Control Interface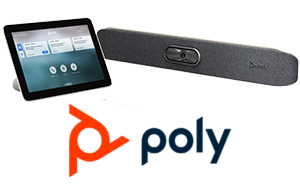 The Poly Studio X30 is radically simple, with support for leading cloud services built in. Voices are crisp and clear, thanks to a beamforming microphone array and acoustic chamber design. The built-in, wireless content sharing allows you to connect to your interactive panel with no need for cables or other hardware. It's perfect for connecting those learning remotely with students in the classroom.
Simple setup gets rooms up and running in moments
No PC or Mac needed for always-on connectivity to your favorite
video platforms
Block out distractions with Poly Meeting, including exclusive NoiseBlock AI technology
(1) TC8 Control Interface

(1) Poly TC8 and RJ45 (LAN) cable
(1) Setup instructions

(1) Cable bundle
(1) Monitor clamp
(1) Privacy cover
Poly Studio X50 All-in-one Soundbar Camera & TC8 Control Interface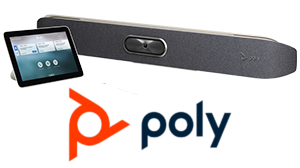 The Poly Studio X50 is the ideal solution for larger classrooms and auditoriums. The full-room quality audio and crisp video provide virtual attendees a true in-person feel. This all-in-one video bar is user-friendly with support for leading cloud video services built into the bar–no PC or Mac required. Capable for wireless content sharing, users can collaborate and share from their devices with no physical connection.
Production-quality performance

 

Speaker tracking & c

amera framing

 to focus on the 

presenter

 

Dynamic audio capabilities with 

Poly's

patented 

Noiseblock

 AI technology

Wireless content sharing

 

High-quality stereo speakers with unique acoustic chamber design deliver rich audio

Compatible with video conferencing platforms without the need for a PC or Mac

 
(1) TC8 Control Interface

(1) Poly TC8 and RJ45 (LAN) cable
(1) Setup instructions

(1) Cable bundle
(1) Wall mount
(1) Privacy cover
PTZ Logitech Camera & ClearOne Group Speakerphone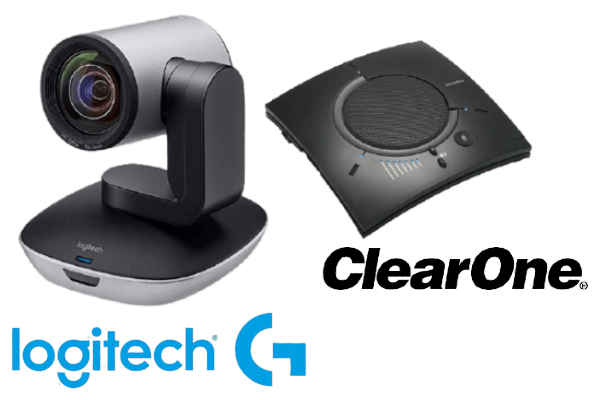 The PTZ Pro 2 delivers brilliantly sharp image resolution, outstanding color reproduction, and exceptional optical accuracy. Paired with the ClearOne Group Tabletop Speakerphone, this is an affordable solution for bringing quality audio and visuals to your hybrid classroom experience.
Allows for screen sharing for both teachers &

students

 

Presets allow students at home to see the teacher as they move around the front of the

room

 

HD video and 10x 

zoom

 

Compatible with many video conferencing platforms

Can be positioned to provide more versatile camera angles with different mounting options
Logitech PTZ Pro 2 Camera:
(1) Wall mount
(1) Remote control
(1) 10ft USB cable w/ power adapter connection
(1) Power adapter w/ regional plugs
(1) Setup instructions
ClearOne Group Speakerphone
(1) USB 2.0 cable
(1) Quickstart guide
Vaddio Drop-down Ceiling Mount for Large Cameras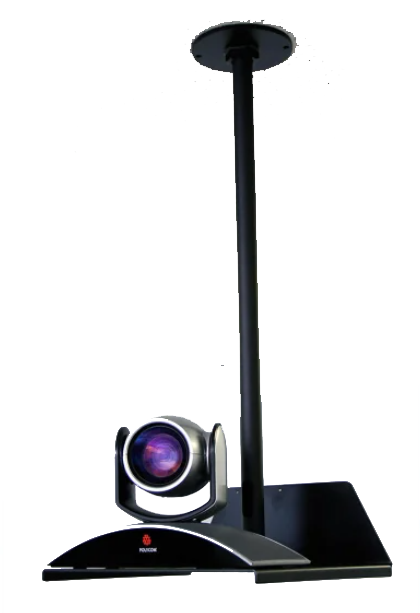 This ceiling mount is made of heavy-gauge steel with a black powder coat finish that is both attractive and long-lasting. The mount consists of a mounting tube that acts as a pass-thru for the Vaddio cabling system. The large 5" flange provides added stability. Compatible with the Poly and Logitech models listed above.
Relaunch Aggregator 72" Fluid Head Tripod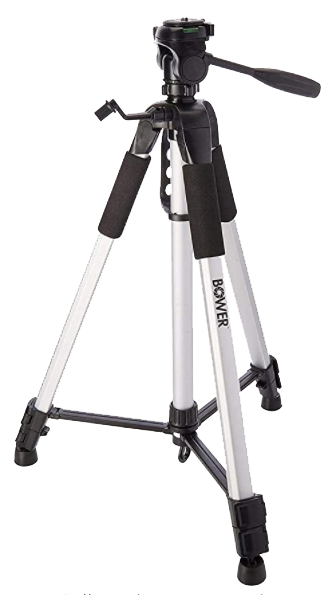 The Relaunch Aggregator is part of Bower's "Steady Lift Series" and is 72 inches of standard video/photography perfection. The tripod has a 3-way fluid pan-head (pans 360 degrees and tilts 90 degrees) with rubber-tipped feet and quick side level leg locks to keep things steady. Compatible with the Poly models listed above.
Height-Adjustable Mobile Stand for ActivPanel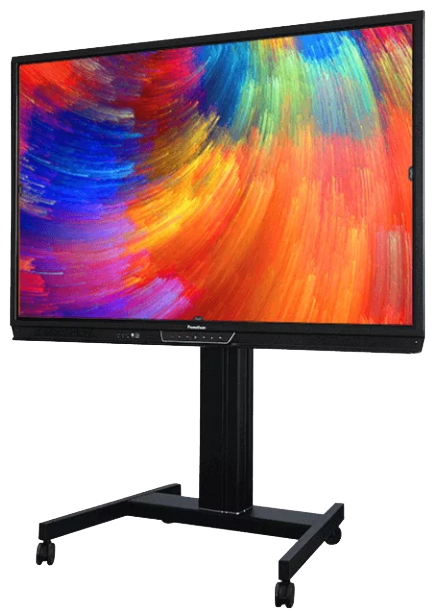 The Height-Adjustable Mobile Stand makes classroom mobility smooth and effortless. Utilizing revolutionary spring tension technology, this cart provides safe and easy high-low adjustment with just a light touch.
Other Hybrid Classroom Tools
ListenTALK Wireless Audio System & JBL Speaker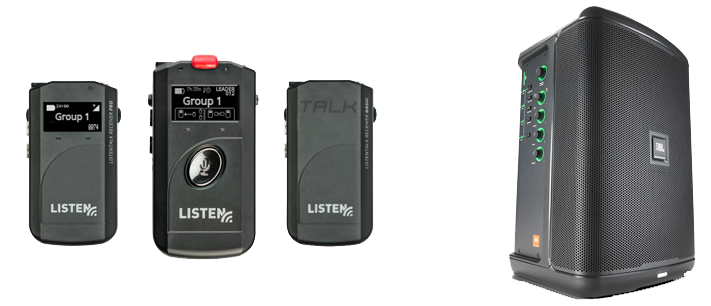 ListenTALK Transceivers are equipped with Listen Technologies' exclusive encryption technology and push-to-talk functionality, providing the simplest option for communication and collaboration between teacher and student.
The JBL Eon One packs a professional-grade speaker, a full-featured 4-channel mixer, and Bluetooth control into a compact battery-powered PA, weighing just 17.6 pounds. Presets are easily customizable using the JBL Compact Connect app.
Allows addition of voice re-enforcement for teacher-to-student presentation
Compatible with PC or laptop to enhance teacher's audio in conference calls
Easily integrated into existing audio systems
Transceivers have exclusive encryption technology for added security
JBL PA automatically lowers background volume when speech input is detected
Set up quickly & easily using JBL Compact Connect app presets
ListenTALK Wireless Audio System
(1) ListenTALK Transceiver w/ leader clip
(1) Rechargeable Li-ion battery
(1) Universal ear speaker
(1) Breakaway lanyard
JBL Speaker:
(1) Rechargeable battery
(1) IEC charging cable
(1) Quickstart guide
G10-T Base Kit for Microsoft Teams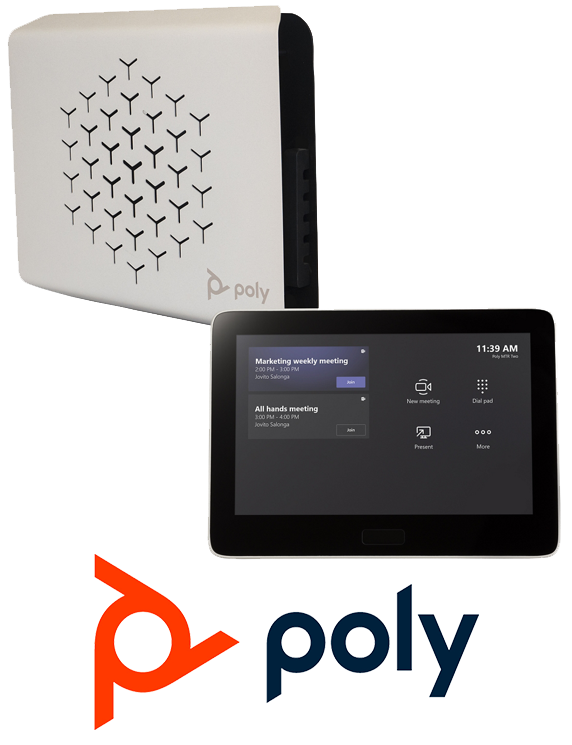 Poly's G10-T room solution for Microsoft Teams delivers a clutter-free Microsoft Teams Rooms experience combined with powerful Poly audio for simple, predictable remote teaching experiences. This base kit is compatible with any of the Poly cameras listed above.
Clutter-free cabling & simple installation
Connect existing Microsoft-compatible USB peripherals
Configuration can be arranged to fit classroom needs
Share content by connecting the GC8 to a computer or Smartphone
(1) Wall/VESA mount
(1) 10m fiber optic USB cable
G40-T Small/Medium Room System for Microsoft Teams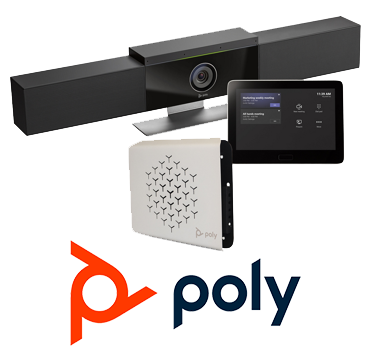 The G40-T system brings Poly's USB Studio Camera to small/medium rooms for an immersive Microsoft Teams experience. The Poly camera tracks teachers as they move across the classroom and frames individual speakers, all while blocking out distractions with Acoustic Fence technology.
Configuration can be arranged to fit classroom needs
Exclusive Poly HD Voice, Noiseblock AI & Acoustic Fencing technology creates a virtual audio fence, minimizing sounds outside the defined perimeter
Share content by connecting the GC8 to a computer or Smartphone
G85-T Medium/Large Room System for Microsoft Teams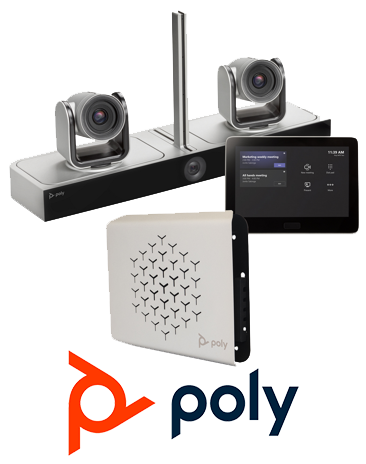 The G85-T Medium/Large Room System takes Microsoft Teams to the next level with teacher-tracking technology and automatic zoom. When educators aren't worrying about staying in camera view or how to work a remote control, they can stay focused on what really matters.
The Poly Eagle Eye Director II captures every detail with panning, tilting, & 12x zoom capabilities
Configuration can be arranged to fit classroom needs
Incorporate multiple room angles for an immersive classroom experience
Share content by connecting the GC8 to a computer or Smartphone
(1) Wall/VESA mount
(1) 10m fiber optic USB cable
hybrid classroom partners we trust
Contact us for
Hybrid Classroom Technology