The Benefits of Wi-Fi 6, Part 2: Speed & Security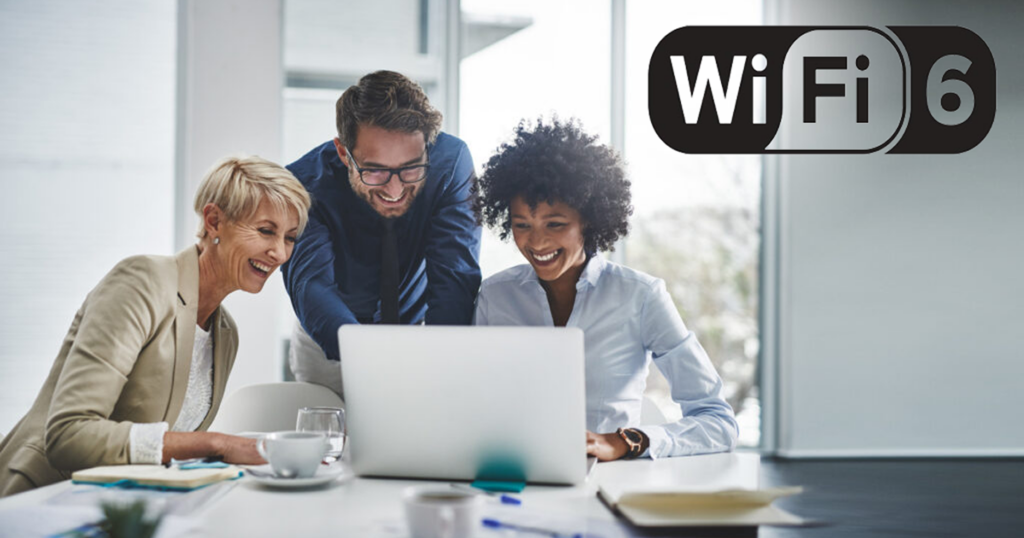 By now, you may know a little about Wi-Fi 6 and how it differs from previous generations. You may also know the overall benefits that come with the move to Wi-Fi 6—but how do these benefits unfold in your day-to-day business reality, the vital operations that keep your organization running, and the overall productivity (and morale!) of your employees?
Fortress-Like Cybersecurity
As you may have previously read on our blog, Wi-FI 6 brings with it illustrious WPA3 certification. But what does this mean for you and your organization? WPA3 certification includes more robust encryption algorithms than previous versions, but also offers advanced key management. Technology leaders are often forced to address bring-your-own-device (BYOD) policy effects and traffic between devices and the Wi-Fi access point, and so these new features, courtesy of WPA3, mean organizations are less exposed to traffic capture and external decrypting attempts by malicious invaders.
WPA3 features allow businesses simplified, more secure onboarding of the IoT devices3 that will be a driving force across networks for years to come. From smart building devices to virtual assistants like Alexa, IoT is a daily feature in how we live and work. It makes sense to position today's leading businesses to communicate across IoT devices while maintaining the advanced cybersecurity position that WPA3 via Wi-Fi 6 provides.
The security of Wi-Fi 6 truly presents what Infosecurity Magazine has called a "win-win" for both users and the providers they trust to outfit their networks. This is part of why Encore Technology Group has its own Networking-as-a-Service offering for clients, as it endeavors to provide secure, convenient connectivity for users across a wide range of business applications and office environments.
Accelerated Network Speeds
Yes, Wi-Fi 6 is more secure and faster. But how does that translate to the realities of your daily operations? Its predecessor, Wi-Fi 5/802.11ac, touted maximum speeds around 3.5 Gbps–a theoretical mark that wasn't often necessary for daily business operations2. On Wi-Fi 6, that theoretical maximum more than doubles to 9.6 Gbps.
This jump in power and speed is important, because even though typical download speeds in the US hover at only around 72 Mbps, the double-speed capability of Wi-Fi 6 means more power to each device and a better overall user experience on the network when powered by Wi-Fi 6. In other words, this is about way more than just raw speed.
With security-focused BYOD policies, overlooked density challenges can be the kiss of death to network productivity and efficiency. As Wi-Fi 6 empowers routers to communicate with more devices at once, it keeps connections strong to process and deliver consistent performance on busy networks. As more and more devices flood the market primed to function with Wi-Fi 6, having a network that is future-ready for these new advances in technology is the best way to position your business for tomorrow.
Future-Ready Technology
Odds are decent that your current devices are not all Wi-Fi 6-compatible. But we already know that phones and other devices are hitting the market today and over the next five years that will be Wi-Fi 6 ready by default.
You can "tomorrow-proof" your network and avoid drops in efficiency and speed by investing in a network modernization that is centered on integrating Wi-Fi 6 into your routers. This investment positions your business for growth without sacrificing network performance for the long haul. Whether you add an office-wide smart thermostat system, a few hundred employees, or a network of roaming tablets for part of your team – you are ready with a network upgrade that is built to handle the influx of IoT and other devices expected in the coming years.
Density is a sure thing in the business environment, especially as the IoT space expands to encompass countless areas of our personal and professional lives. Cybersecurity is non-negotiable. Speed is a must-have. With Wi-Fi 6, you can be ready for these and many more challenges to come.
Sources: