Reimagining the Classroom: Teaching in a Hybrid Environment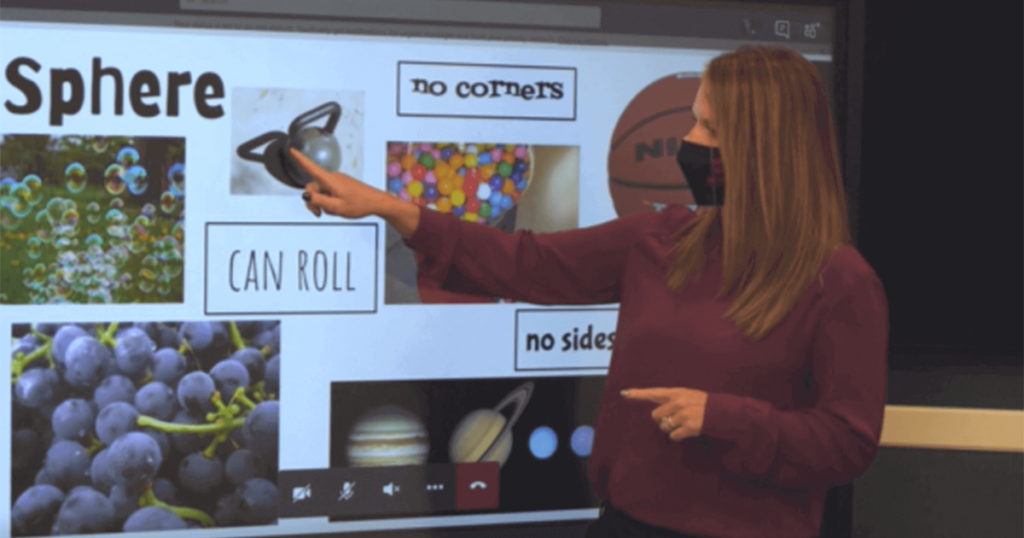 If we have learned anything as educators in the past twelve months, it is that we are resilient, creative, and dedicated. As teachers, we are always learning and growing; finding new and more effective ways to meet the ever-changing needs of our students. This year has been no different; although we may be teaching from home, or with some students in the classroom and others in their own homes, we are all doing our best for every student in our care.
So what does that look like? For many of us, we are teaching in some form of hybrid learning environment. We can define hybrid learning in many ways, but for the K12 space it is an instructional model where teachers deliver lessons to both in-person and remote learners at the same time. Is it ideal? No. Is it easy? Absolutely not. But that doesn't mean we can't be successful.
Hybrid learning doesn't change the end goal, which will always be to educate our students in a way that empowers them to master the standards for that year. Hybrid learning doesn't change our approach; as we plan, we still start with the end in mind. We look at what we must teach and then design our lessons based on those goals. Hybrid learning doesn't change the need for connection; now more than ever, it is essential that we create a classroom culture where students feel safe and connected, are willing to take academic risks and ask questions, and most importantly feel valued.
Easier said than done, right? Sure, but we can do it. Let's look at a few simple steps you can take to WIN in this new hybrid learning landscape.
Focus on student engagement. How can you get all students involved, both those in the classroom and remote? Connect groups of students in virtual breakout rooms to complete collaborative projects. Use sites like Kahoot and Quizlet to keep kids on their toes. Give students a chance to share and present in class. Keep students moving, talking, and involved.
Build relationships. Find ways to connect with your students and to connect them to each other. Provide time for social interactions through simple activities: bell ringers at the start of class, breakout rooms, class discussions, theme days, "Would You Rather" conversation prompts, virtual lunches, and games. Be creative and don't be afraid to ask your students for ideas if your creative juices have dried up.
Have students work on collaborative projects. Use tools like Padlet, Jamboard, and Google Workspace applications to give students the chance to work together, improve communication skills, and feel like they are making valuable contributions to the classroom community. Be sure to group both in-person and virtual learners together.
Remember, it's never about the tool. There will always be shiny new tech tools to try, but don't be tempted to go for all of them. Pick two or three tried-and-true learning aids that are open-ended and can be used across subject areas. Choose tools that allow students to create, collaborate, and can be used for a variety of projects, therefore providing them with opportunity to really master the technology, then shift focus to the lesson content. You can always add new technology resources after you feel like students have mastered the few you use. Be strategic in how you leverage educational tools within your lesson design.
Create screencast videos to flip some of your instruction, providing more time for small groups and one-on-one support. Students can re-watch, pause, and take notes. Remember that no one expects a perfectly produced clip. Although you can probably find a video that might teach the same concept, you are the best teacher for your students and they want to see your face and hear your voice—even if they won't admit it! Set aside the dislike of seeing yourself on camera and hearing your voice and just teach!
Use checklists and rubrics with your students. Provide checklists for students to help them stay focused and organized, without being overwhelmed with daily tasks. Rubrics can help students stay engaged with the task at hand, while providing clear guidelines and expectations for assignments.
Be creative with formative assessments. Especially for those students that are not physically in your room, it is key that you keep a pulse on the class and their learning. Tools like the question feature in Google Classroom, Flipgrid, myViewBoard pop quiz, Padlet, and Socrative all provide quick responses and help you monitor learning, and can even help you get a feel for the social and emotional wellbeing of your students.
Be intentional about providing feedback for students. Timely feedback is often even more valuable to the learning process than the final grade. Using tools like Kami or Screencastify allow you to provide audio or video feedback rather than basic text comments. Audio and/or video comments help convey excitement, emotion, content, and voice inflection, making that feedback even more meaningful.
Consistency is key. Change is inevitable, but the more that you can stay consistent, the easier life will be for you and your students. Schedules, types of assignments, tech tools — do your best to avoid unnecessary change.
Don't be afraid to fail. Failing is just an opportunity to learn and try again. Talk to your colleagues, listen to podcasts, read a blog, learn from others, and share your experiences; we are all learning and growing together.
You will always be the most powerful tool in the classroom. You know what your students and how to meet those needs. You may just have to do a little reimagining!
Want to learn more about how to incorporate hybrid teaching tools into your curriculum? Encore offers hybrid classroom kits that can be tailored to fit your specific teaching needs. If you have any questions about these tools or the strategies described above, don't hesitate to reach out.