Encore's 2021 Christmas Party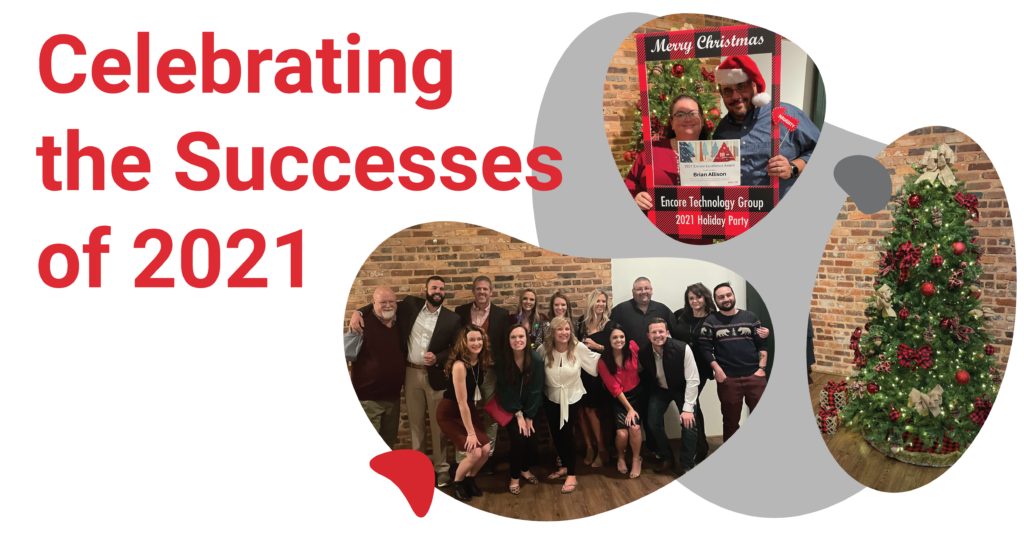 Despite the many challenges encountered with the pandemic, Encore's team continued to dive headfirst into meeting customers' needs, making 2021 a year full of successes. Our team was eager to gather for the first time in a while and celebrate the achievements of the last year at Encore's Christmas party. Hosted at The L in downtown Greenville, the "Holidays at the Lodge" party theme allowed employees to celebrate with the comfort, homey, and welcoming feel that the holiday season brings. The team indulged in a delicious southern-style buffet, laughed around the photo booth with silly props, got down on the dance floor, and toasted to the incredible accomplishments made throughout the year. Several Encore partners joined in on the fun and sponsored door prizes raffled off at the event. A big thank you to Promethean, Cisco, ScanSource, and Synnex for gifting the amazing prizes – from Amazon Echo dots to a 55" TV and soundbar.
Encore Excellence Awards
Each year, Encore has the pleasure of presenting the Encore Excellence Award to a select group of employees who exemplified admirable performance, strong work ethic, consistent positive attitude, solid collaboration skills, and a high level of professionalism. Encore is extremely proud to recognize the four 2021 recipients and their great work:
Brian Allison – Systems Engineer
Chandler Holmes – Lead Technician
Paul King – Solutions Consultant
Ciara Marshall – Digital Media & Marketing Specialist
We thank each of these individuals for their fantastic work and honor their achievements.
Loaves & Fishes "Feed the Thousands" Holiday Food Drive
Encore also had the opportunity to donate to a local charity, Loaves & Fishes, in their annual "Feed the Thousands" holiday food drive. Employees contributed canned goods and cash donations to help serve local Greenville families and reduce hunger over the holiday season.