Beyond Your Four Classroom Walls: Exciting Tools for Expanding Learning Experiences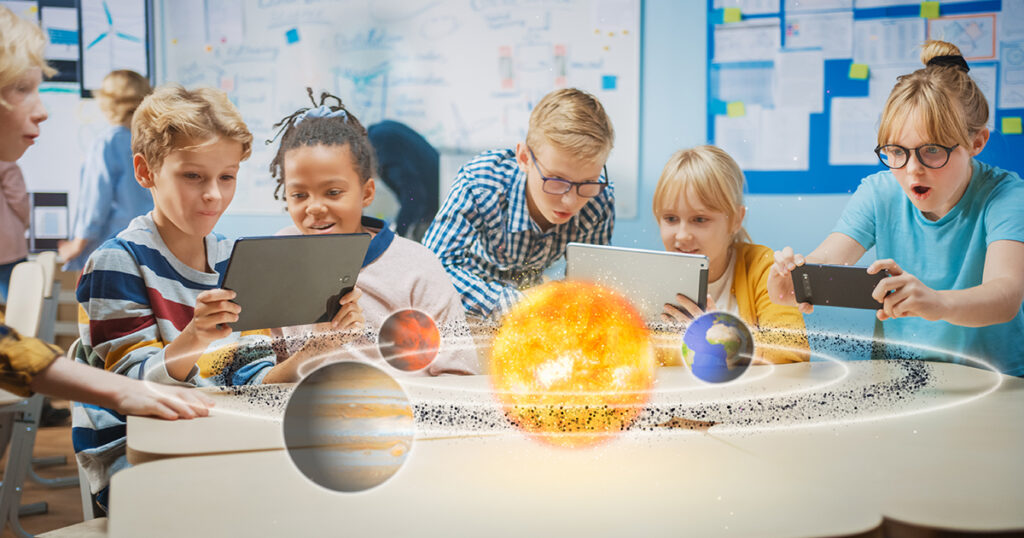 By Carrie Fesperman, Digital Learning & Collaboration Specialist
The last month or two of the school year was always my favorite. Not because summer was just around the corner (although that was clearly a plus), but because it was a time when I had a little more freedom to try new things. It was the time of year when I would try an app that I'd read about in a blog, or a new website that I had seen during a webinar. By that time of the year, my students were far more tech-savvy, and it was a great way to test some new edtech without committing to using it for the entire school year. It was the perfect opportunity to try something new, see if it worked, and then figure out how to best implement it into my instruction for the next school year.
Are you ready to try something new? I want to share some fun tools that you can try before the school year ends. We'll also look at some recurring experiences you may want to research for next year.
Our classrooms have changed drastically over the last two years. From a standard classroom experience, to completely virtual, then hybrid, and finally back to in-person teaching and learning. Even as we have come back to face-to-face learning, there are lingering restrictions and learning losses that are difficult to quantify. As teachers, we have struggled to find a new normal, engage our students, and bridge that learning gap. Creating novel experiences to get students invested again is tough; field trips can be pricey and have been few and far between thanks to COVID. Instead of the expense and headache of planning a field trip, what if you could find ways to bring the world into your classroom, all the while piquing students' interest and engaging your learners on a deeper level?
Easier said than done, right? Sure, but we can do it. Let's look at several ideas that will help you bring the world to your students' fingertips.
YouTube 360 Videos
Have you ever watched a 360 video? You don't need virtual reality goggles or anything special to make it happen in your classroom. If you play the video through the YouTube app, you can actually spin the video around to look above, behind, and all around you. If you have an interactive panel in your classroom, you can show the video on the panel. Students can come up to the board and control what everyone sees on the big screen!
Augmented Reality
Augmented Reality (AR) is a way to bring exciting learning experiences to your students' fingertips. By downloading an app on a tablet or even just searching within Google, you can project 3D images in your classroom. Imagine looking at the back of the room to see a giant black bear or walking through a portal to explore the moon! If you have an interactive panel with screen sharing capabilities, mirror your phone to the panel, open the app, and now the 3D images are life-size!
Google Earth
How many of your students have never flown in an airplane? How many have never even been out of state? You can open Google Earth, type in an address, and "fly" right there. Students love to see their school, their own homes, and nearby landmarks. But the power comes when you realize you can fly anywhere: go see the Sahara Desert, explore the Amazon Rainforest, and find the Eiffel Tower in Paris. You can zoom in, zoom out, and use street view. With the "I'm Feeling Lucky" app within Google Earth, students can explore a new location around the world every day. Let them mark it on a map, add facts about what they learn, and maybe even begin creating a bucket list for their adult selves. You can build projects, measure distance and area, and more!
Flipgrid Live Events
If you haven't been using Flipgrid yet, start there. If there was only one app or program that I could use with students, Flipgrid would win the prize every time. Just when I thought Flipgrid can't get any better, they introduced Flipgrid Live Events! Register for free to take your class on a journey to meet with designers, engineers, authors, scientists, humanitarians, and other celebrated guests. Providing students with the opportunity to hear firsthand from professionals around the globe is an experience that can't be measured.
Global School Net
Want to collaborate with a classroom in a different state (or even another country) but have no idea how to make that happen? Global School Net works to connect educators and students through innovative online collaborative learning activities. They work with 90,000 educators in 194 countries and offer online expeditions, a geography game, diplomacy-fostering activities, and so much more!
If you take the time to try out one (or even all) of the ideas above, I have a feeling that you will quickly recognize the power behind bringing the outside world inside your four classroom walls. Here are a couple of other projects that happen annually, are free to take part in, and get your class collaborating with students around the world.
International Dot Day – September 15th
Celebrate creativity, courage, and collaboration with this one-day event. Sign up, read The Dot, and then dive into creative activities inspired by the book. Classrooms connect through Twitter and other platforms to share their photos, art, and videos. Be prepared to be inspired!
Global Read Aloud
Global Read Aloud (GRA) is simple. Teachers around the world read the same book aloud to students over a six-week period, connecting and collaborating globally during that time in discussions about the book. GRA has been connecting students around the world since 2010. Sign up, buy the book, and start reading!
We live on a beautiful, diverse, and ever-changing planet. Unfortunately, very few students have the privilege to travel the world, explore diverse communities, learn new languages, or live in places other than their hometowns. With minimal effort and no cost, we have the opportunity to bring the world inside the four walls of our classroom. Exposing students to this beautiful place that we call Earth will spark curiosity, encourage research and collaboration, and possibly even set a student on a lifelong journey to see more. Give it a try! I wish you the best.