The Post-Pandemic Classroom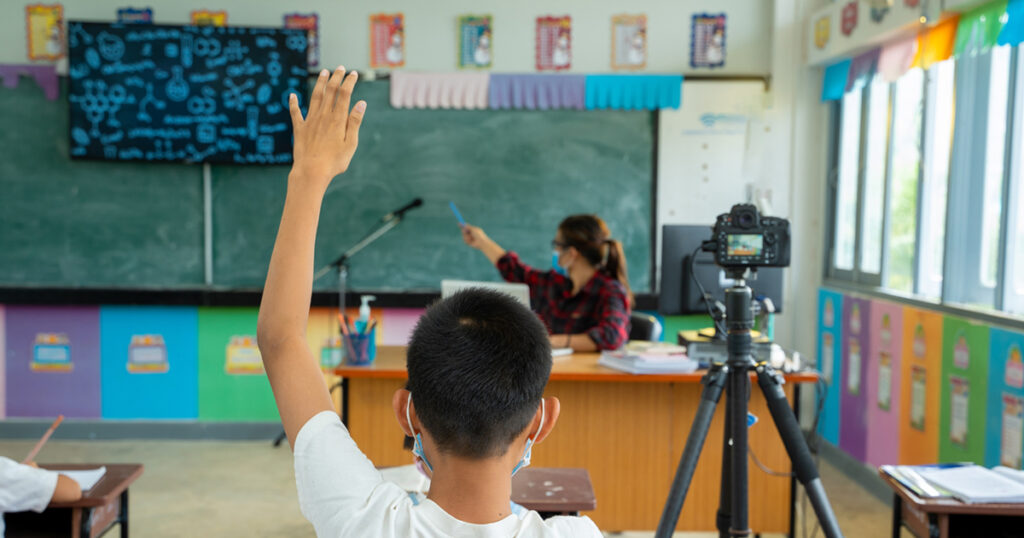 "Flexibility." It is the word that seems to pop up in every conversation that I have with teachers, it's in every article and blog post I read about this school year; it seems to be everywhere. Webster's dictionary defines flexibility as "being characterized by a ready capability to adapt to new, different, or changing requirements." It is the ability to bend easily without breaking. It makes sense; I understand why that seems to be the word tied to teachers, students, parents, and even learning itself right now. The past eighteen months haven't been easy, but we didn't break, and we did, in fact, adapt.
Educators were shoved out of comfort zones during the pandemic and had to pivot on their methods of instruction, tools, and strategies. Although that change wasn't easy, it pushed educators to discover new tools and use different approaches with students, as well as to be flexible in their instruction. Some of those strategies worked really well and others failed. As we move into this new normal, it is the perfect time for teachers to evaluate their approach to instruction and make some changes. There are lessons to be learned from the experience and growth that can happen because of it. As Dan Domenec, Executive Director of the American Association of School Administrators (AASA), said, "The reality is that this is going to change education forever." The question is, how does it need to change? And what role can technology play in that change?
Based on the HMH 2021 Educator Confidence Report, 77% of teachers believe that educational technology will help them be more effective teachers in the post-pandemic classroom. In fact, 66% of teachers report being very or extremely confident in using edtech, compared to just 50% in 2020. Over the past year, students have learned how to access instructional content anytime and anywhere. Now it is simply our job to get that content into their hands. In the same study, teachers reported that videos and digital versions of print materials were most effective for online instruction. 73% of teachers are using online assessments now, up from just 49% last year. We've learned to adapt and we've made some changes; many of which we should make sure stick around.
Most teachers will tell you that a universal lesson learned during the pandemic is that learning can happen anywhere. That's right; we're flexible and can do our jobs well anytime and anywhere! When we give students the tools to succeed, they can (and will) take hold of their own learning and move forward. We all know that most students learn best in a classroom, led by a teacher, surrounded by classmates, with hands-on activities taking place — but it isn't the only way that students can learn. And it isn't the best way for all students. Through the pandemic, teachers gained the confidence to use tools that previously seemed intimidating. They learned to create digital assessments, video lessons, and content that could be consumed by students at any time. As we make the move back to the building (silent cheers all around), we can begin to combine those digital tools and strategies with our face-to-face instruction that we know and love so well.
Here are a few thoughts:
Continue with pre-recorded content.
We know how to make videos and learned that they don't have to be perfect. As Chris Nesi likes to say, "just hit record". Content that can be consumed at any time and as many times as needed changes what we can do with our face-to-face time and offers students the chance to watch, rewatch, and then watch again when needed.
Drill down to the heart of the assignment.
Focus on the key content for the learning that really needs to occur. When we take out all the extras, it allows time for learning that is more active, hands on, project based, and interest driven.
Give students more meaningful work they can do together.
Collaboration is an essential 21st century workplace skill. Students need to learn how to collaborate, and it's good for them. We benefit from the experience of working side-by-side with people that are both like us and different, with different thought processes and strengths. We learn more, and quite frankly, we accomplish more.
Continue with the online and open resource assessments.
Online assessments can often be graded automatically, providing immediate feedback for students and saving teacher's valuable time. When creating an open resource assessment (or open-book test), we acknowledge that our students have every resource they need at their fingertips. The real question is, can they use those resources and do something with that information? Can we ask questions in such a way that they are forced to take that information, process and manipulate it, then respond thoughtfully?
Make time for relationship building.
Teachers and students alike floundered without that face-to-face time together over the past year and a half. Build time into the day for conversations, laughter, and fun. It is just as valuable as the content-based instruction.
Technology is going to continue to play a key role in education, as it rightly should. It is a part of our everyday world. As educators, we need to leverage that technology to make learning more engaging, reach beyond the four walls of our classroom, simplify everyday tasks, and provide more time for true interactions with our students. Don't forget: we are strong, we are flexible, we are learners, and we are getting better every day. Let's move forward and make this the best year yet!
Sources