2022 Networking Tech Predictions: 5 Trends to Watch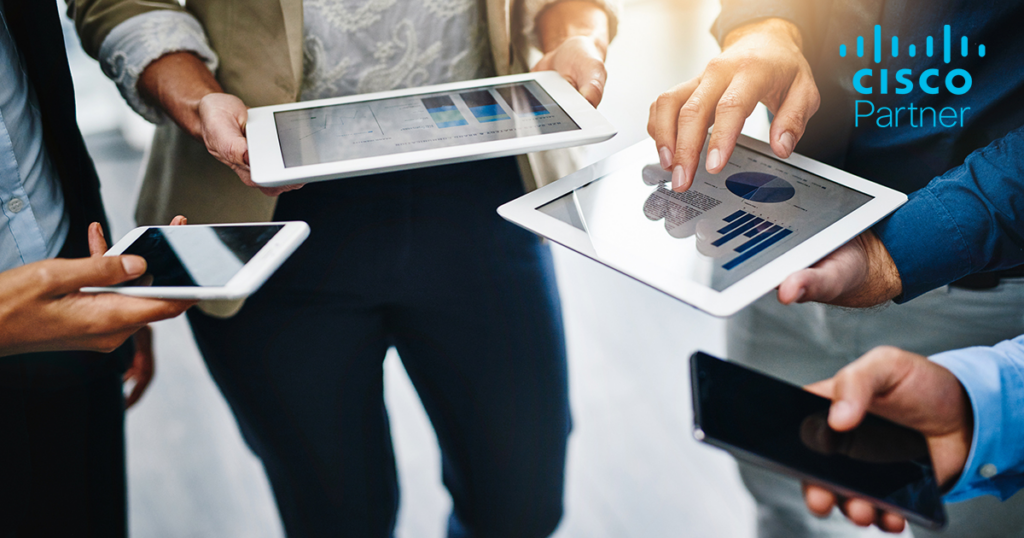 Predicting the future is something we probably all wish we could do. But for networking technology, the past two years have been full of enough surprises. Now, it's all about being prepared for any number of scenarios. That's why networking tech solutions have had to expand quickly and adapt readily to a constantly changing environment. Organizations that want to maximize their budget and readiness will need to fine-tune their networks in the coming years to ensure proper security, while also supporting factors like remote workers and rapid data growth.
For business owners and leaders who want to be prepared, now is a great time to read up on the 2022 trends and predictions that will change networking tech once again. After all, change is a given – but being prepared? That's a skill.
Trend #1: Networking-as-a-Service (NaaS)
By now, the idea of IT being delivered as a service is nothing new – but "as a Service" models have paved the way for Networking as a Service (NaaS), a market that's growing exponentially. Once estimated at $8 billion in 2020, the NaaS market is expected to explode to more than $45 billion by 2026. The concept is simple enough: networking vendors like Cisco and countless others can work with a direct IT provider like Encore to build tailored infrastructure for your business or facility and charge you a flat subscription for using it. This recurring fee covers everything necessary to keep you online; gone are the days of large expenditures for updating all your routers or buying new printers, for example. Since it's all part of a service, refreshing with the latest upgrades is included in service as well.
For businesses looking forward and wondering how best to update their network and maintain modern security and performance with minimal in-house resources, NaaS is a great place to start.
Trend #2: 5G for Business
In terms of hype, 5G has generated plenty. And while 4G LTE is not obsolete by any stretch, particularly in remote areas, businesses with access to 5G cellular technology can benefit from better connection speeds and faster performance of devices across their network. In fact, many technologies are already standardizing 5G compatibility in a bid to stay competitive and relevant in the networking space.
Especially for businesses with a high device volume or the need to support multiple Internet of Things (IoT) devices, 5G could be a great trend to learn more about and invest in. With a major shift in the works in enterprise networking, reaping the benefits of 5G now will bolster your network's performance, security, and speed for years to come.
Trend #3: Getting SASE
Known as Secure Access Service Edge (SASE, pronounced "sassy"), this networking trend brings business leaders renewed visibility despite the major shift to remote work. If your company or business has departed from simple brick-and-mortar operations to a "work anywhere" framework, SASE could be an enormous boost to your security and network performance. By giving businesses the ability to manage both users and network traffic, by-the-minute and with full visibility, SASE supports in-office and remote workforces with more control and data than ever before.
Trend #4: Into the Metaverse?
Whether we understand it or not, the metaverse is a network of online spaces where humans interact and engage with one another in immersive experiences. It may sound high-level, but the truth is that businesses, healthcare, and even K12 education are all making connections within the metaverse. In the metaverse, communications are created and transactions are processed in a way we haven't experienced before, including many new forms of currency such as cryptocurrency. From the boardroom to the classroom, the metaverse is already part of day-to-day business. In K12 settings, this can include things like interactive white board exercises or active learning through immersive applications. The metaverse also includes the ways that we communicate through standard platforms like Cisco Webex or Zoom. In fact, some small-to-medium businesses have been operating on the metaverse in one way or another for several years now.
Whether enhancing remote team synchronicity or enabling immersive virtual learning experiences, today's interactive technologies are often part of the so-called metaverse. For most consumers, the metaverse revolution is already underway. And if not, now is a great time to learn more about how this high-tech term actually applies to your daily business operations – and how this trend can help make your business more streamlined and communicative than ever before.
Trend #5: Automation Everywhere
From artificial intelligence (AI) to robotic process automation (RPA) tools, automation is on hyperdrive in 2022 and beyond. Automation tools can help your business simplify routine processes and repeat labor-intensive duties with increasingly minimal coding required. Whereas automation was once a high-tech prospect, today's tools rely on AI and machine learning to simplify tasks and support improved cybersecurity.
Your enterprise has unique needs. But with many of today's automation tools, you can enjoy customized support, task automation, and responsive security protocols that operate "hands-free" for you at the push of a button.
In an ever-changing tech world, running a business is challenging enough without having to wonder if your network needs support. If you're ready to partner with an experienced, proven tech provider who can build you customized solutions and networking plans based on today's most valuable technologies, contact Encore Technology Group today.
Sources: